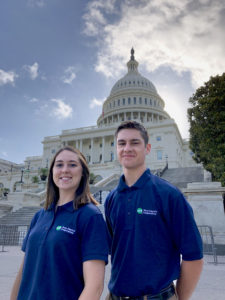 Each year, Lamar Electric Cooperative selects two high school students to attend an all-expenses-paid tour of Washington, D.C., which includes visiting the U.S. Capitol and meeting members of Congress. Eligible students must be in 10th, 11th or 12th grade and live full time in a residence served by Lamar Electric Cooperative or attend one of the four high schools served by the co-op: Prairiland, Roxton, Detroit and Faith Christian. Home-schooled students served by Lamar Electric Cooperative are also eligible. Applications must be complete with a three-page typed essay. The essay prompt is "Tell us about circumstances where you have demonstrated your leadership skills." The essay must be submitted to Lamar Electric Cooperative no later than 5 p.m. on February 8, 2019. Application is available online at www.lamarelectric.coop. Submit by e-mail to dctrip@lamarelectric.coop, or in person at 1485 North Main Street, Paris. It's that easy! CLICK HERE TO APPLY
The Youth Tour was born from a speech given at the 1957 National Rural Electric Cooperative Association Annual Meeting by then-Sen. Lyndon B. Johnson. He was a longtime advocate of electric co-ops, having lobbied for the creation of Pedernales Electric Cooperative in 1937 as a young politician in Texas. "If one thing comes out of this meeting, it will be sending youngsters to the national capital where they can actually see what the flag stands for and represents the future," Johnson said. With that encouragement, Texas electric co-ops began sending summer interns to work in the senator's Washington, D.C., office. In 1958, an electric co-op in Iowa sponsored the first group of 34 young people on a weeklong study tour of the nation's capital. Later that same year, another busload came to Washington from Illinois. The idea grew, and other states sent busloads of students throughout the summer. By 1959, 130 students were sponsored by electric co-ops to visit Washington, D.C., and see their government in action. The program has steadily grown in popularity since its beginning 50 years ago.
The tour typically begins in Austin for Texas participants. From there, the group flies to Washington, D.C., where they meet with approximately 1,500 other students from across the nation. Once in Washington, the tour participants get to see and tour many historic places such as Mount Vernon and the U.S. Capitol, where they can visit with Texas Congressman, John Ratcliffe, and tour the House and Senate chambers. Also included on the tour are historic sites like the National Cathedral, Ford's Theatre and the Smithsonian museums, the Washington Monument, FDR Memorial, Kennedy Center, Kennedy's grave, the Tomb of the Unknown Soldier at Arlington Cemetery and Mount Vernon, as well as the Jefferson Memorial, Lincoln Memorial, Korean War Veterans Memorial and Vietnam Veterans Memorial. Lamar Electric sponsors area students on this trip each year. To be eligible for the Youth Tour contest, a student must be a sophomore, junior or senior in high school and live in a home served by Lamar Electric or attend one of the four high schools served by Lamar: Detroit, Prairiland, Roxton and Faith Christian Academy. Home-schooled students in homes served by Lamar Electric are also eligible.