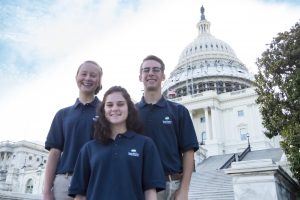 Every summer, two Lamar Electric-area teens are selected for a week-long trip to Washington D.C. The trip will take place June 6-15, 2018. This unique trip will give you the opportunity to watch history come alive as you explore the museums, memorials and monuments with other students from your state. You will meet student leaders from nearly every state and hear dynamic leaders on Youth Day. Bottom line, you will make friendships that will last a lifetime and be part of a group that has over 50,000 alumni in every walk of life including U.S. Senators and CEOs.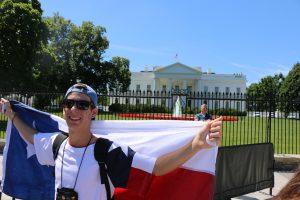 While in Washington, tour participants from Texas will visit their congressman, tour the House and Senate Chambers, the Supreme Court and the Library of Congress, and will have photo sessions on Capitol Hill and in front of the White House. The group will also see the wreath-laying ceremony at the Tomb of the Unknowns; see Kennedy's Gravesite; tour Arlington Cemetery; Lincoln Memorial; Vietnam Memorial; World War II Memorial; and Peterson House; Smithsonian Museums of American Art, Natural History, American History and the Air & Space Museum; Union Station and the Old Post Office Pavilion. In addition, the students will visit Pentagon City Mall, Hard Rock Café, experience the Washington at Night Driving Tour, and see the Sunset Parade at Iwo Jima. On the last night in Washington, Youth Tour groups from all states will come together for a dinner and dance.
To be eligible for this year's "Government In Action Youth Tour" contest applicants:
– Must be a sophomore, junior, or senior in high school, AND
– Must live full time in a residence served by Lamar Electric OR you must attend one of the 4 high schools serviced by Lamar Electric which include Detroit, Prairiland, Roxton and Faith Christian. Home schooled students in homes served by Lamar Electric are also eligible.
HOW TO ENTER:
Let us know a little information about yourself and send us a three page essay (about 500 words) on "How will electrical needs be met in the future?" It's that simple!
Five finalists will be chosen by the co-op staff and after an in-person interview two students will be chosen.
Click here to download the application. Once the information is entered on the application simply click on the email button, attach your three page essay (must be PDF or Word format) and send to: dctrip@lamarelectric.coop.
You can also mail the completed application and essay to Lamar Electric, P.O. Box 580, Paris, TX 75461 or bring it by our office at 1485 North Main Street, Paris, TX.
Entries must be received by 5:00 p.m. on February 10, 2017.