On National Lineman Appreciation Day we celebrated by serving our linemen a warrior breakfast to show our gratitude.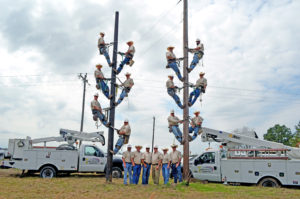 Braving stormy weather and other challenging conditions, lineworkers often must climb 40 or more feet in the air, carrying heavy equipment to restore power. Linemen must hold 14,000 volt energized wire in their gloved hands in freezing or scorching weather while providing excellent customer service. Listed as one of the 10 most dangerous jobs in the U.S., lineworkers must perform detailed tasks next to high voltage power lines. To help keep them safe, lineworkers wear specialized protective clothing and equipment at all times when on the job. This includes special fire-resistant clothing that will self-extinguish, limiting potential injuries from burns and sparks. Rubber sleeves and rubber gloves are worn in tandem to protect them from electrical shock. While the gear performs a critical function, it also adds additional weight and bulk, making the job more complex. Electric linemen do not often receive the recognition they deserve. Electric line workers across our service territory work every day near deadly energized wires, building and repairing lines to ensure the overall reliability of the system. Like most professions, some of our men go by other job titles such as Right-Of-Way Workers, Equipment Operators, Staking Engineers or even Substation Technician.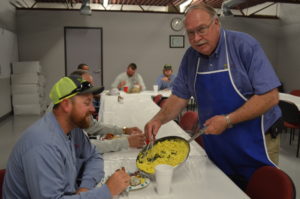 In our service area, Lamar Electric lineworkers are responsible for keeping over 2,300 miles of lines across 3 counties working, in order to bring power to your home and our local community 24/7, regardless of the weather, holidays or personal considerations.
Being a lineworker is not a glamourous profession. It is very dangerous, requiring them to work near high voltage lines in the worst of conditions, at any times of the day or night. During hurricanes, wildfires or storms, crews often work around the clock to restore power. While April is known for spring showers, there is also a day set aside to "thank a lineworker."
If you see a lineworker today please pause to say thank you to the power behind your power. Let them know you appreciate the hard work they do to keep the lights on, regardless of the conditions.